Today marks the arrival of 'Connexion', the long-awaited EP by Sydney post-hardcore lords, Inertia. The five-piece teased three huge singles in the lead up and are today unveiling the full experience!
Produced, mixed and mastered by Inertia's resident audio engineer and guitarist Mark Williamson at Keywork Audio (After Touch, Far Away Stables, Closure), Inertia have crafted a handful of tracks that explore the bands collective talents and weave their way through the journey of human connection and the various emotions experienced in a lifetime.
Previously released singles "Savoir (To Know)", "Heavy Eyes" and "Reminisce (ft. Lizi Blanco)" have built the foundation and anticipation for the 'Connexion' EP – with Alternative Press comparing the sydney-siders to the likes of Ocean Sleeper, Issues and Notions, triple j Unearthed rotation, rave Unearthed reviews, rotation on The Faction, a breakfast time triple j spin with Sally and Erica, Spotify editorial adds to Homegrown & Heavy, New Core, New Metal Tracks and New Blood and plenty of love worldwide.
.
.
Check out a few early reviews:
"If you like the more melodic side of bands like Northlane and Polaris, you absolutely need to give Inertia a listen. I doubt it will be long before these guys reach the heights their metalcore forefathers have." 
Wall Of Sound

"Heavy Eyes places this newcomer band in line with nationals like Belle Haven, Meliorist, Young Lions, or like a less "metal" Northlane." 
KillYourStereo

"Inertia are using Connexion as an opportunity to explore human interaction through the lens of melodic post-hardcore and the ups and downs that come with the human condition. If lead single Heavy Eyes is anything to go by, which it is, it's clear that this EP is going to make us all feel a whole bunch of things. Brace for impact." 
Blunt Mag

"Sydney has a great track record of producing some killer heavy bands, and post-hardcore/metalcore five-piece Inertia are absolutely no exception to that rule!" 
Maniacs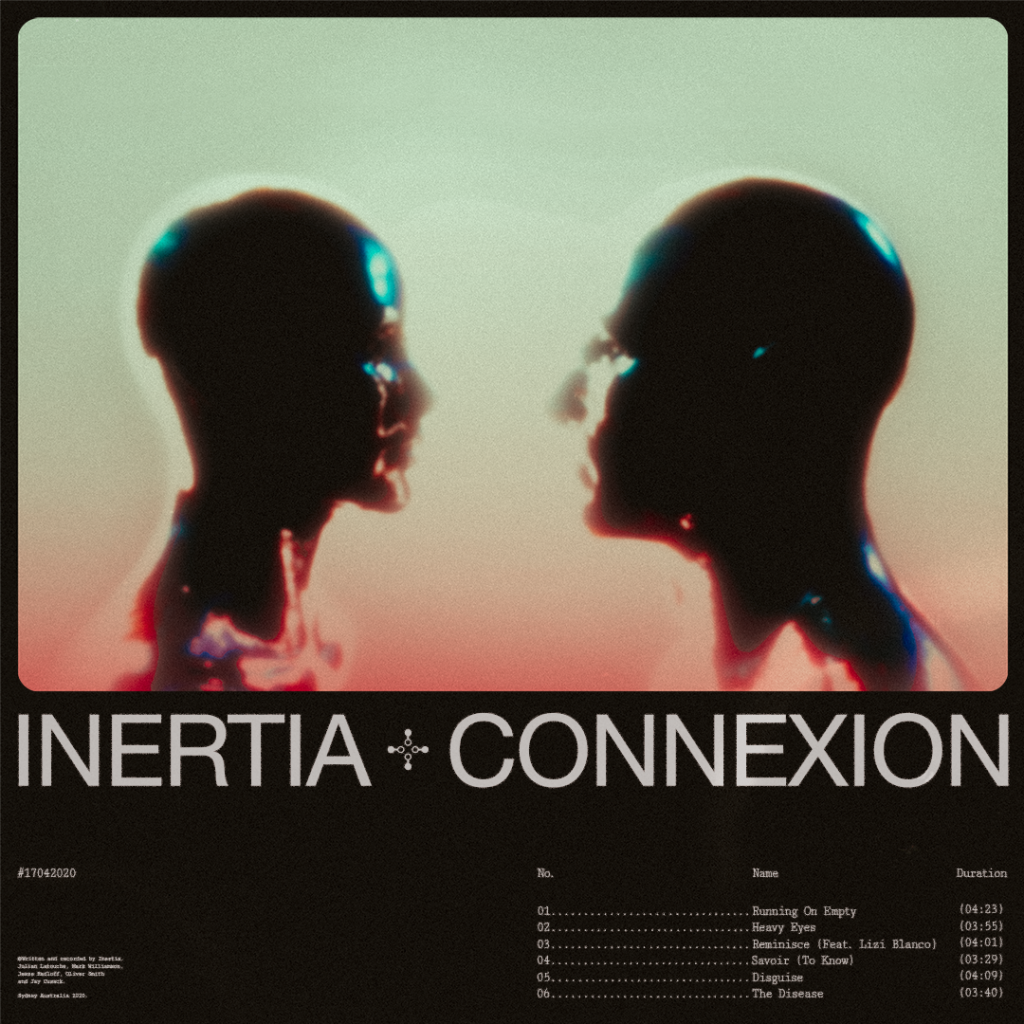 Inertia is Julian Latouche (vocals), Mark Williamson (guitar), Jesse Radloff (guitar), Oliver Smith (bass) and Jay Cusack (drums). Since their 2017 EP 'Unlearn', Inertia have been busy making a name for themselves in the alternative music scene, having shared the stage with genre favourites including Dream On Dreamer, Ocean Grove, Slaves (US), Thornhill, Void Of Vision, Story Of The Year (US), The Getaway Plan and many more. Late 2018 welcomed Latouche (ex-Oh/Villain) as the new vocalist at the helm and together the band delivered three huge singles and have been working towards their follow-up EP 'Connexion'!
.
The wait is finally over – 'Connexion' is available now to stream and purchase at all good online outlets and streaming platforms!
.