FOLLOWING THE RELEASE OF THEIR NEW SINGLE 'GOOD GRIEF', SHELLEY CAUGHT UP WITH CONNOR (VOCALIST) FOR A CHAT:

.

Kia Ora! How are you? 
Great thanks! We are finally coming out of all our COVID restrictions and live music is coming back! Very exciting times.  

.

So you only have 2 singles out and a video for each of those singles – essentially quite a new band. But you all as individuals aren't new to all of this are you? 
No not at all. All of us have played in a few different local bands. Sam, Jamo and I most recently played in a band called Strategies together and Callen is the vocalist of Brisbane band Days Like These! Personally, Headwreck is my favourite band I've been apart of. Such a good energy between the four of us currently so we are excited to keep powering on and makes something cool! 

.

What is the process like for you guys to do a single or any music? Isn't something you like to time with or is it something that, once the idea is there it just takes off? 
The way we work things is Jamo creates an instrumental and we bounce ideas off each other to develop it into something that we really gel with. We have heaps of instrumentals recorded and try to just release the best music. I write lyrics next and get some input from everyone regarding restructuring and rewriting lyrics and we lock in what the song is going to be. We do all the recording ourselves with Jamo and he kills it. 

.
 
How would you describe you sound to someone who may want to check you out? 
I think our sound isn't something locked down to one sub-genre. Our last two singles have been very different to each other and our next release will be even more different to Good Grief and As Is! I'd say its aggressive/emotional hardcore. 

.

Your first single and video for 'As Is' featured Luke Harriss of She Cries Wolf. Another great band in AUS. How did that collaboration come about? 
I've personally been a huge fan of She Cries Wolf for years now and have gotten to know Luke over time. We felt as if the first song we released needed a feature so we reached out to him and he said yes! He also was apart of the video which was heaps of fun.  

.

There's a bit of a theme going with the artwork for the 2 singles, centred and monochromatic. Is that intentional? 
Absolutely. I personally have an aesthetic in mind that I want to continue to use throughout all our releases so everything looks very 'uniform.' We are very particular with our graphic design ideas and want for someone to look at the artwork and instantly go "Oh, that's a Headwreck release" before even reading the text on the cover. Hopefully over the next year you'll see some similar artwork with our singles!  
.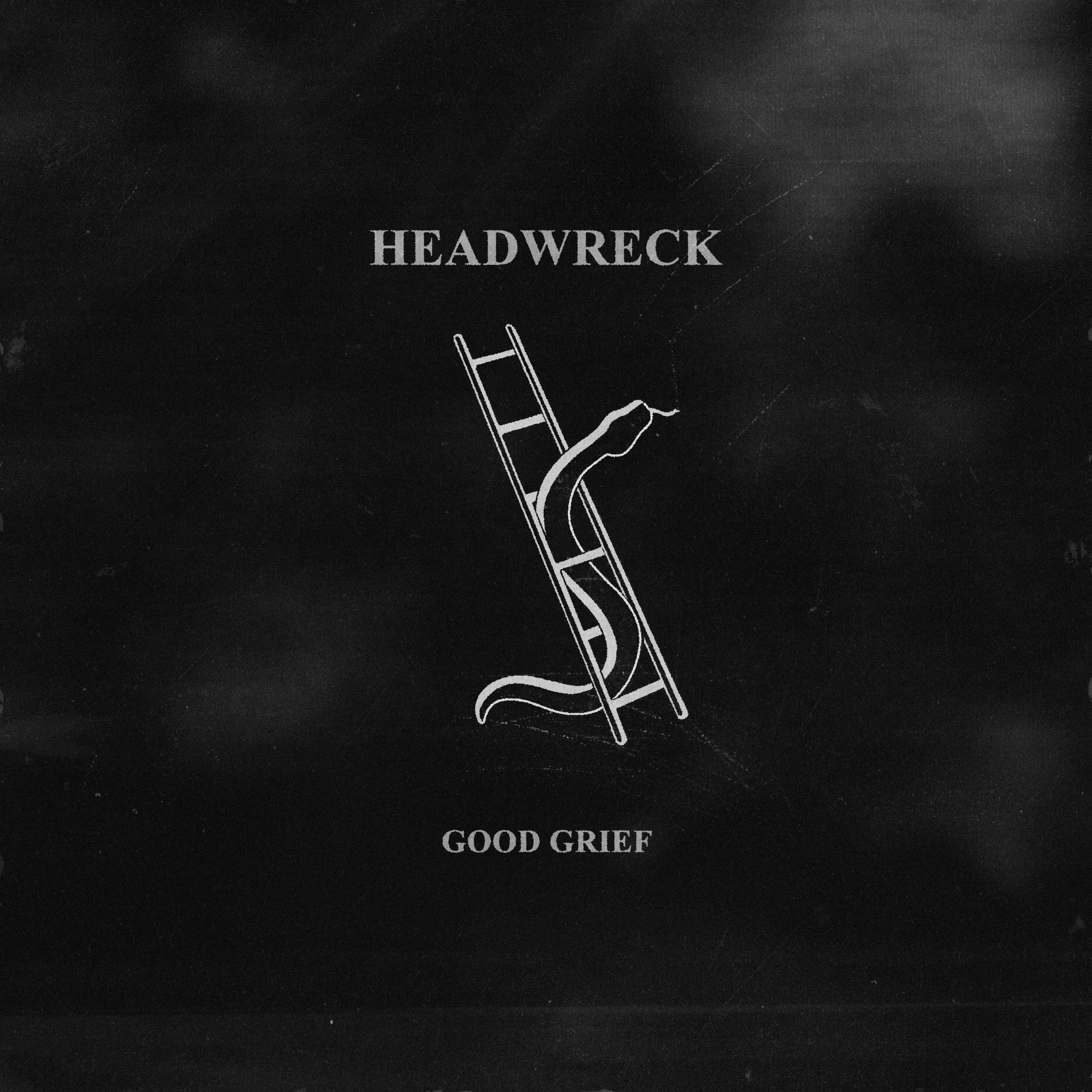 .
Where do the ideas for the artwork come from? I understand the 'Good Grief' artwork ties into the lyrics. 
For As Is, the artwork was from Josh Ang. I saw the design on his Facebook so we worked with him to turn it into our single artwork. The Good Grief artwork was done by our friend Andrew Vaughan. That one is a lot more symbolic as it recreates one of the themes of the song.  

.

Also your 2 videos have some similar elements in the shots. Was that intentional or just coincidental? 
Yeah absolutely intentional! We love the fast pace and chaotic feel of videos and we feel like it really works with our music. We love the bright colours of the lighting and will definitely continue to follow a similar aesthetic.  

.

There's been about 6 months between 'As Is' and 'Good Grief', yet you've played shows already. Do you just play unreleased stuff live? 
We actually only got to play one of our booked shows as the others were cancelled/postponed due to the pandemic. Our set consisted of a bunch of different songs we have written and it was a great opportunity to see how the crowd would respond to our different sounds. It was really helpful when planning our future releases.  

.

Is there an EP or album coming? 
Unfortunately there is not! We love the idea of releasing singles and really want to follow that algorithm. We feel as if with local bands EPs/Albums, a lot of the content is skipped over by casual listeners. So releasing one piece of music at a time really gives any listener just enough content to take in at once as opposed to 5 or 6 songs at once! It also gives us an opportunity to try and do a video for every song!  

.

2020 seems to be a bit of a write-off but what are the next steps for Headwreck? 
We are continuing to create new music throughout this downtime but it's getting close to restrictions being lifted and live music returning! So hopefully some new music and a couple shows to seal out the year!  

.

FUN QUESTIONS: 
Guilty pleasure music? 
For me it has to be Oliver Tree. Such a good artist with a fresh blend of pop and rap. 

Handshake or hug? 
That's a tough one. We all hug each other but we have a handshake that we all do with each other and some other friends too!  

If you could only watch one TV show for the rest of your life, what would it be? 
The Simpsons hands down. I watch it all the time and have seen most of the episodes but can re-watch them over and over. 

If I say New Zealand to you, what is the first thing that pops into your head? 
Chur bro! Haha, we say it all the time. Our bassist Callen is actually from New Zealand! 

.

Anything to add? 
Make sure to check out our new single Good Grief now available on all major streaming platforms! Thanks for chatting! 
.