This year I attended Laneway Festival as a patron (usually media with an organised plan) and I have to say it was quite nice. I didn't arrive to Albert Park until around 4pm. As soon as I got wristbanded and got a booklet, I headed straight to the Rotunda stage.

SWIDT were the first act I caught that day. They replaced J.I.D who had to pull out. He had been having vocal issues but then he attended the Grammy's so who knows. 
Anyway SWIDT were a great choice to play. And even had Ill Baz filling in on the decks for Jamal. They played an incredible set which was all high energy and great tracks. The visuals playing behind suited each track perfectly and just felt so them. There was even, what I would call, a hype wall of death. It was insane! 
.
.
To keep that energy going I went along to check out FILTH AKL on the Puma stage. The crowd started off small but slowly grew. It was such a great & positive environment where people could just dance and be themselves. For example I was dancing and had a girl just say hi and a smile to me as we both danced. I even ran into some friends while there. It was just a good time! 
.
.
After running into my friends at the Puma stage I decided to head along to MAHALIA with them. I didn't know who she was but she was incredible. She had such a great energy and a flawless voice. Mahalia also loved having banter in-between songs and it really just felt like you were having chats with your mate. I noticed the crowd was either sat down and vibing along or stood up, dancing with their friends. I'm glad I managed to catch some of her set because I am definitely a new fan. You really have to appreciate festivals for this reason.

But I didn't stay the full set as I decided to pop away and get water. It was a hot summers day but luckily being in Albert Park there was a lot of shade. I really like the Pump water stand they have bad the lanyards they put around them really make it easier to carry.

Next act on my list was RUEL on Princess St stage. Ruel has been busy and has visited here recently, but I was excited to see him again. I was also interested to see how he handles a festival set. His band took the stage first in matching green outfits which seemed so comfortable and were aesthetically pleasing. The stage had a large screen at the back playing visuals as well as 2 green 'Free Time' cubes either side of the stage.
Ruel came out with so much energy and I couldn't fault his vocals. Though I didn't stay for his whole set, I loved the few songs I got to see. He really made it feel like this show was his.
.
.
After meeting up with my friend, we decided to hit the Rotunda stage and get our spots for EARL SWEATSHIRT. As he began his set, my friends and I moshed our way closer to the front. This is where I noticed Charli XCX fans were already up the front for her set which was next.
Earl Sweatshirt really gave the crowd what they wanted. I personally didn't know  much of his music but my friend did and I could see he was enjoying every minute. Earl just kept going and going. The way he spit bars was quite great to witness in person. The pace and delivery was perfect.
.
.
Now I did plan on staying to see Charli XCX but being The 1975 fan I am, I decided to head over to the Princess St stage instead. I met up with friends who had told me we needed to get in there now to secure our front spots. As I arrived to the stage King Gizzard and The Lizard Wizard were playing. The front had became quite the mosh pit so I just jumped into it and managed to get up to my friend. I had never heard these guys before but I actually really enjoyed them. Their energy and vibe from the crowd was great. And I loved how they could go from a slow tune to an intense punk show.
After some crowd movement we managed to get to the front as The 1975 intro rang out. They then dove into the first track 'People' which honestly just really got it all going. It was so fun and I was just so ready for it all. Being the fan that I am, I have to say it was interesting seeing how they adapted without their usual staging. They also clearly curated a setlist which was meant for those who didn't really know them. I didn't mind this but it did mean some songs I was hoping to hear were cut. But I still had the best time and sang along to every word. I loved that they kept some of their solo show elements such as the outfit additions (hat and bag for 'Sincerity is Scary') and THE TWINS! THE JAIY TWINS just bring more energy to the performance with their fun dance moves and smiles. It was so great. The colourful visuals played out throughout the set. But I loved that they played Greta Thunberg's interlude and he told the crowd to listen. It really was important and a great way to use their platform.
You probably think I am biased on all this and I guess I am a bit but I really thought it was a good performance. Matty seemed to be enjoying himself. Though I don't know how he was performing in a sweater and jeans – it was still so hot! But it was a great set and perfect way to end the day.
.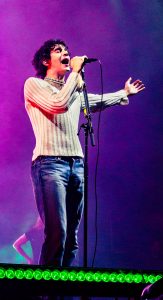 .
Laneway is an interesting beast in itself. This year seemed to be quite different in regards to artist choices etc and I don't know if that worked out as some cancelled and the crowd wasn't as big as previous years. But it was still a good day and there did seem to be something for everyone. It's a nice summer day out to chill with friends and enjoy some music.
.