Copacetic (adjective) – Fine, Ok, Very Satisfactory.
The reason I mention this because this track suggests anything but and I really think that's the point. It makes me think of when people ask you how you are and you say "good" even though it's not.

This Crooked Royals track starts off quite slow with Christians vocals. But as everything kicks in, Christians vocals get higher and somewhat more raw. I have to say throughout the track I really appreciate the rawness in his vocals. As smooth as his cleans can be, that rawness just adds something more to the track itself. The first verse then kicks in with Lee's screams. It's good in the way it breaks up the track even more. But my favourite part of this verse really is the end of it, where it becomes more of an almost evil voice rather than just screams and that breakdown! I expected a breakdown but more like 3/4z of the way through. To have it so early was a nice surprise. There still is a breakdown towards the end but it is more a mix of vocal and instrumental rather than just your standard heavy instrumental breakdown. The instrumental of this track is just as chaotic as the lyrics but in a good way. It feels though as it really pushes the vocals & feeling of the track forward.

Though the track premiered on The Faction, the video made it's debut on Wall of Sound and gave the listener the chance to digest it all fully. I have to say, I love the track more than the video so I recommend giving it a listen before you watch the video.
The video is also a contrast to the title of the track and starts in a similar way, with Christian. The whole video is essentially the band in a room, lit in green, with a camera constantly rotating around them. It cuts between a women who is fully black with bold eyes, looking quite demonic. It also cuts to the band spitting up black stuff essentially. I mean I think I get it: Darkness consuming them type-of-situation. But it doesn't feel that clear until you get at least half way through. In saying that, some of the shots of the band playing are really nice and I like how it mixes between wides and close-ups. But some of the shots almost seem like they could have been done better. Parts of the video also seemed a bit grainy or pixelated and I didn't know if that was intentional or due to the haze clearly happening in those shots.
The video is good in the way it's quite simple and essentially allows the track to take the focus. Overall I feel like it could have been better but at the same time I definitely see a development from their last videos.

Crooked Royals are definitely growing and figuring out what they want to do. I look forward to hearing more from these guys!
.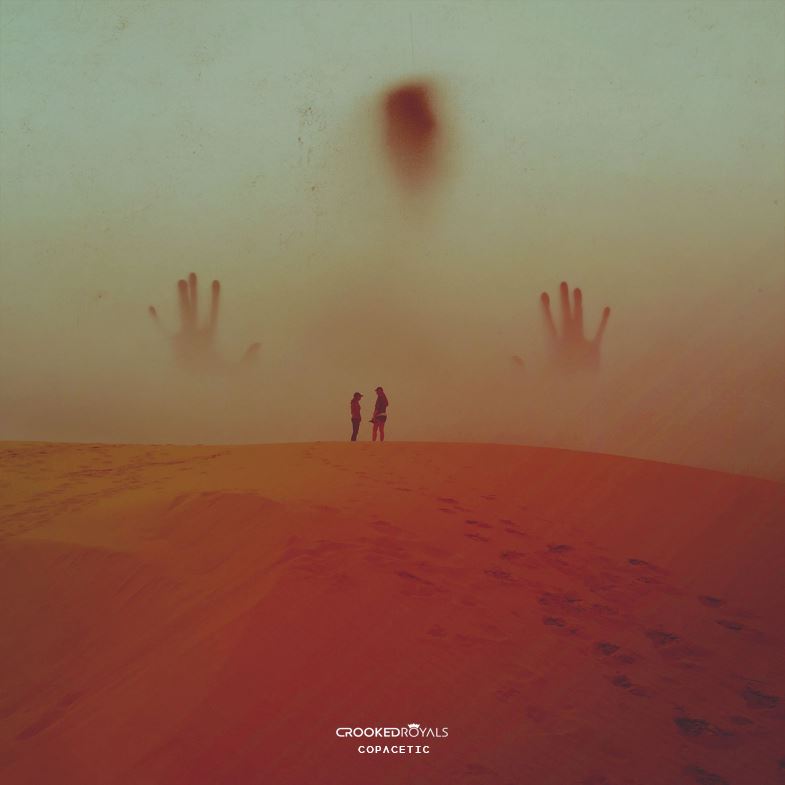 .
PRESS RELEASE:
Auckland's Crooked Royals have returned in 2020 with their brand new single, "Copecetic", that sees the band explore their own brand of intricate metalcore and soaring melodies.
Mixed by Zorran Mendonsa (City Of Souls, Seas Of Conflict, Banks Arcade) and mastered byJens Bogren (Opeth, Sepultura, Babymetal), "Copacetic" is about pretending you're okay when you're not and accepting vulnerability to break this habit. This brand new single is the bands first offering of 2020 and contrasts soaring cleans against intricate brutality that the band have mastered.
Crooked Royals is Christian Carstensen (clean vocals), Lee Mackley (unclean vocals), Jake Andrews (guitar), Keane Gilles (drums) and Conor Lawnson (bass) and the five-piece have already made waves in the heavy scene. The band hit the ground running in 2018 when five friends and musicians living in Auckland came together to form the metalcore outfit that is Crooked Royals. In just the first year as an aspiring collective of musicians, the band were signed to Lukas Magyar's (Veil of Maya) management label, New Industry, and later recorded their debut EP, 'Intertwine' with the man himself in the USA and followed it up with their sophomore offering, 'Rumination'.
Crooked Royals previous two singles from the previous 'Rumination' EP saw the band premiere ontriple j's The Racket and skyrocket in streams on Spotify with over 172,000 plays on the title track and over 211,000 on "Dissentients (ft. Lukas Magyar)" and adds to playlists including Homegrown + Heavy, New Core, New Blood AND New Metal Tracks.
Crooked Royals ability to craft songs with a combination of heavy and clean vocals mixed in with huge crushing riffs has earned them spots opening for London prog rock monsters Monuments in Auckland earlier last year as well as stepping it up to support Australian heavyweights in Northlane and Polaris on their NZ legs of tour.
Crooked Royals brand new single "Copacetic" is out now through iTunes & Apple Music, Spotify, Google Play and all good online stores and streaming outlets.