Ruth Pearce pictured bottom left. All photos taken from the Savage X Fenty twitter account.
These are the reflections of Shelley Te Haara and the statements/quotes come from Ruth Pearce who performed at the show. Shelley reached out to her and a few of the other performers for an interview – Ruth's responses are placed throughout the article.
.
Artists have a makeup brand, a perfume, clothing etc. You can usually tell if they are just a face to a product or if they are fully involved in the product itself. When it comes to her brand, Rihanna never does anything small. Whether it's her first Savage X Fenty show, her NYFW show or her makeup brand, you can see that it has been thought through. "It was really cool, it was a completely different show so I was excited to be involved and to work with dancers that I'd looked up to for a long time and meet new ones as well.  I loved working on the last show, so I knew this one would be even better. Parris always raises the bar, nothing is the same, so I guess for that reason alone I was really keen to be involved".

With the first show you are shown the process and to be honest it's probably not even the full process as I am sure there are probably a few moments of late nights and those little snapped stress moments (if not then damn). "I never take these opportunities for granted. Yes there's always an element of working professionally on these jobs, being serious about them and what I do, but it definitely has its fun times too. What people may not see are the months leading up to a project like this, where there are times that aren't fun and its hard work. I think its understanding what "fun" means.  My fun may not be someone else's". Working hard and seeing the outcome of that hard work is fun for me". Rihanna shows her lingerie through performance but also the power of the human form and all those non-male identifying figures. There are males in her show and even celebrity faces, but that is not the focus. Well that is not where my focus was. My focus was on the movement and how it changed with each colour tone, pieces of lingerie and music.
2020 has been a hell of a year so far, so to say I expected the second incarnation of this show would be a lie. I honestly don't think we know what we're going to get with everyone working on things in different ways or having had done it pre-covid and releasing it now. Now with the photos, snippets, comments etc, I knew I had to see it. But I decided to wait until I knew I could consume this fully. That time is now.

Since it has been released, there has been praise but also some negative backlash. The negative backlash first came from Parris Goebel herself. She let NZ media know that she can see their silence and thinks it is a strong reflection on NZ media and culture. They haven't spoken about this show considering not only Parris' input but the performers themselves who not only range in age but also different cultures including PI and Maori. I agree with this 100 percent.
The next lot of backlash came from the Muslim community for the use of the song "Doom" (by London producer Coucou Chloe) that has a sample of a recitation of an Islamic Hadith, which is sacred to Muslims. Both Rihanna and Parris issued apologies which seem to have been accepted for the most part. People seem to be understanding in that, though it is bad, this is a huge show and some details can be miss. I also think the quick apologies and acknowledgements obviously helped as they didn't try to brush it under the rug. But that is my point of view, I am not Muslim sit is not my place to say.

The show starts off differently this time. We aren't shown the lead up to the show, it just dives straight in. I think the way the show starts with Rihanna and Parris, acknowledges the collaboration, relationship and work between the two. There is also a lot more male presence from the start, including a familiar face, Lance Savali. "It's always good to dance with your own people lol on any project. It feels like home when you're so far away from it. I always love this side of the jobs we get to do. Not saying that its only fun with our dancers from home though. I've met some pretty incredible dancers as a result of working on these jobs and that's cool too."
The first performance is from Spanish queen Rosalia which starts as a beautiful solo and flows into a more upbeat performance where she is surrounded by male dancers of all shapes and sizes. I thought this was beautiful way to start the show as I think Rosalia has really worked her way up with her music but also embodying who she is.
.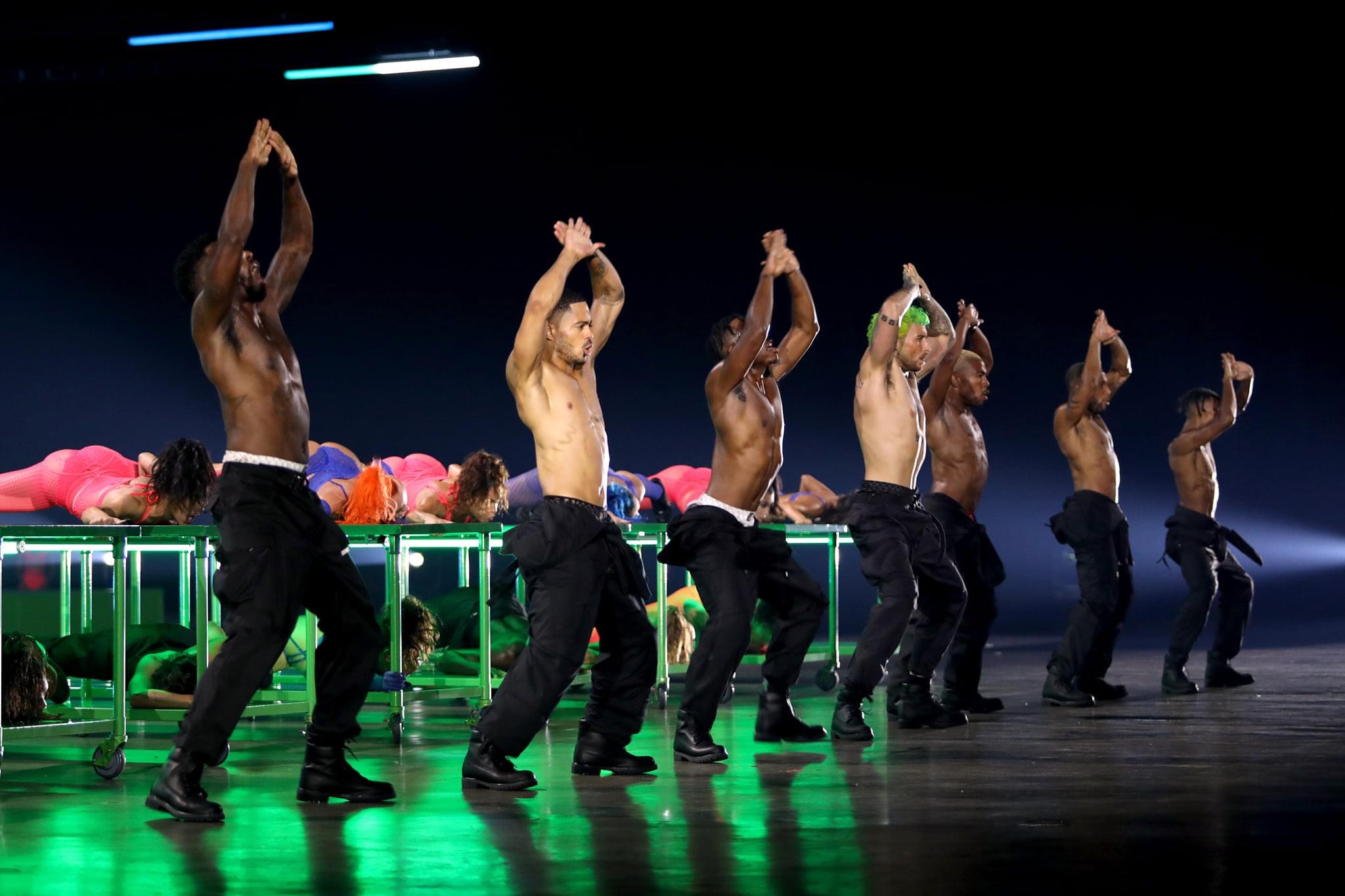 Lance Savali pictured centre – In the bright green hair.
.
To break up each segment, there are interludes which I think are strong pieces in themselves and break up the show nicely. The moments where people talk aren't just saying things to say it for the camera, it is personal. Rihanna also putting her parts in it, brings those process shots that we got at the start of the first on, into the second show. But it is also her journey and I think it ties into each part nicely. "Watching so many diverse dancers really kill off their particular dance styles.  The cast was chosen, I think, to ensure a diverse range of dancer's talents were represented. It was so cool seeing everyone bring their styles together to create something so inclusive of who they were. Again, exactly the intention of the Savage X Fenty underwear range.  If you've seen the show you'll know what I mean when I say, that it isn't your typical Fashion Week cat walk thing haha.  And that's what makes it a stand out – its unexpected!"

Like her first show, there are a lot of celebrity cameos. But I think they blend in a lot more this time. It's not just, here's this celebrity walking around these performers. They are a part of the performance as well, whether it's working with the other dancers & models more or performing a piece of their own – I particularly loved Lizzo's moment. 

The garden scene is beautiful and is like an acknowledgement to the beauty in nature but also an ode to her 2018 fashion week show which was set up like a greenhouse. This is also where we see Rihanna herself incorporated into the show.
In the COMMUNITY segment, Rihanna touches on inclusivity and shows how her brand became a big talking point due to it's diversity in sizing and representation in shows etc. To her it seemed a bit strange that that is the talking point as it is second nature to her and shouldn't be the issue. A lot of us would agree. "Any production like this acknowledges all of that. I mean it's what the show is all about, valuing diversity of body shape and type.  Everyone involved, including the crew, reflects this for sure. So it added to the diversity of the Savage X Fenty label 100%"

This segment is also done as a performance in what looks to be a production line and showcasing a range of different people in regards to sexuality, gender, ethnicity etc. "There's one thing about this underwear range that appeals to so many people of all shapes and sizes, me included! It allows for people like myself (who isn't your typical size 8) to feel good about myself and normalises the fact that, I too can look good in underwear that size 8 women look good in. Also growing up in quite a religious family, dancing around in underwear isn't your typical thing to do. But for this job it felt as though there was a more meaningful purpose to it all – that I could help those thicker girls (like myself) feel good too.  Well that's how I justified it to my mum anyway haha."
The show ended with everyone coming together in almost a class-photo-style formation with Rihanna in the middle. But just when you think it's over, we see the staging being packed down. Amongst the pack-down is Travis Scott, who performs on some forklifts. That is definitely one way to encompass every part of the process in your show.
I personally thought it was a powerful and beautiful performance and it honestly just makes me want to dance around in my underwear too – I may need to buy some Savage X Fenty lingerie first!
.