Xile are a 5-piece from Grafton, New Zealand who as they say "blend in flavours of death metal and European beatdown" to create that Kiwi Hardstyle sound they are known for. The name Xile came from Slayer's track 'Exile' off the album God Hates Us All "Listening to the album in the car, the chorus screams "Exile! Exile! Exile!". There were heaps of bands already with the name Exile so I just chopped the E off the front. Problem solved. Slayer solves every problem".
You may have seen our recent coverage of XILE's Auckland show. If not check out the recap video below:
Their new 10-track album "I AM YOUR GOD" comes out on April 3rd with pre-orders live now! They have released 2 singles off the album so far – 'World Demise' and 'Diamond Eyes'. Their new single & video comes out this week!
.
"I Am Your God" is Xile's debut full length album. Recorded in-between a hectic touring schedule of 2018/19 at SledgeHammer Studios Brisbane with Sean Delander of Thy Art is Murder, Xile brings 10 new relentless songs to the war field.
Xile's message is clear, from religious discontent to the violent state of our modern world, as shown in the album name and title track, "I am your God". Singer and songwriter Luke Mansons vocal flow & presence has evolved into a whole new beast behind the mic since the last recordings. Furious venom spit from a bottomless pit of hatred is the only way to describe the vocal assault.
The music behind the lyrics is aggressive and relentless. There is no shortage of savage riffs here – The Kiwis' technicality is matched with half-time simplicity. From bass breaks to beatdowns, tempo drops to tremolo riffs and palm mutes to pinch harmonics the savage flavor changes each song, keeping you thrashing from the album's start to finish.
This is Kiwi Hardstyle in its hardest, most raw form.
.
This album release may be creeping up quickly but it has been quite the process for them all, starting early 2019.
They shared during an Instagram Q+A that they recorded it in 2 parts: First the pre-production and guitar & bass. This was followed by drums over a few weeks. All of this done in Brisbane at Sledgehammer Studio. But after all the instrumental Xile took a few months break and focused on lyrics and placement. The vocals were done separately, not long after then mixed and mastered by Lance Prenc.
The first idea for the album cover spawned from the banned Slayer 'God Hates Us' album cover, mixed with some influence of Thy Art Is Murder's 'Holy War' album cover. Once the idea was roughly sketched out they purchased necklaces off Amazon that represented all religions, mocked up ideas and sent ideas to ttttttttthomas who turned it into a photo which visually represented what they wanted and finally Toni at BDHW created the stylised cover you see below.
.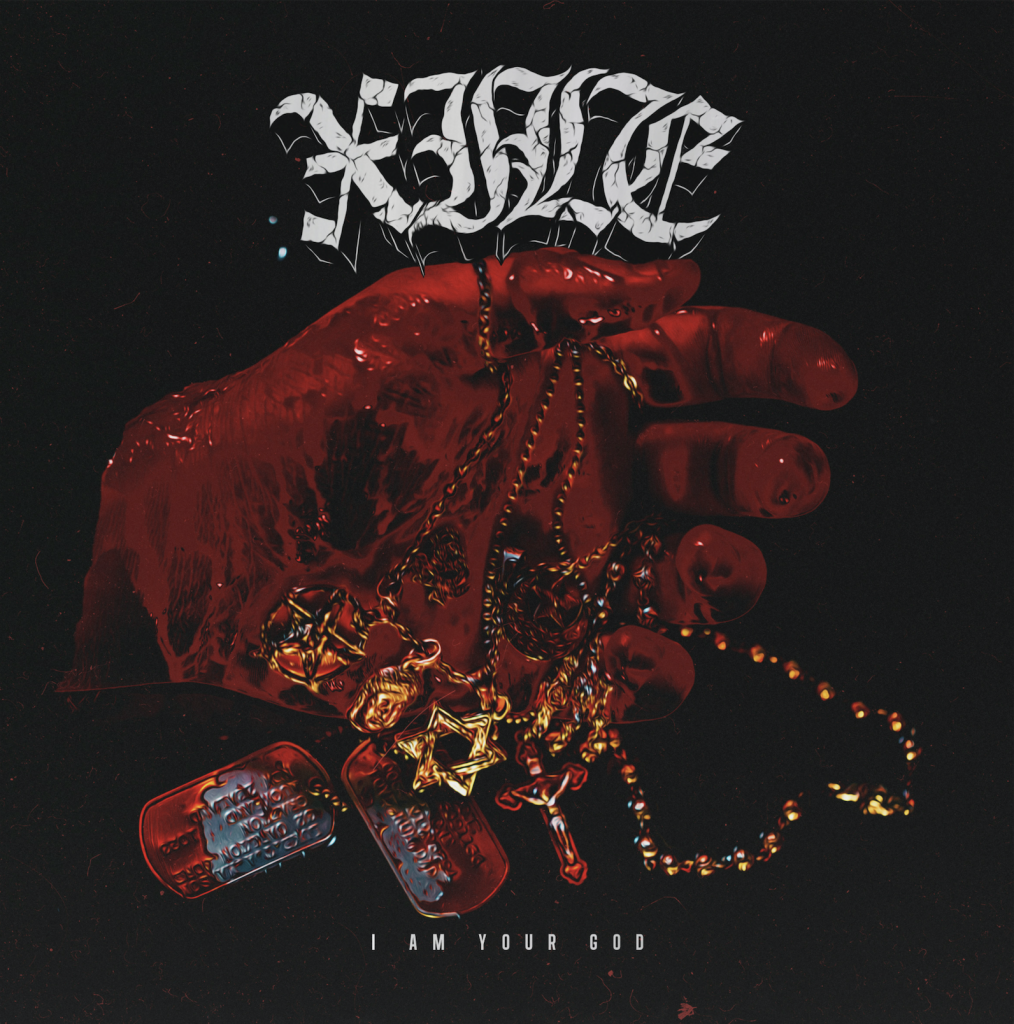 TRACKLIST:
1. I AM YOUR GOD
2. DIAMOND EYES
3. DAMAGED
4. WORLD DEMISE
5. HOLLOW POINT
6. PENALTY DEATH
7. DISINTEGRATE
8. EMPTY CHAMBER
9. SO MUCH FOR LOVE
10. LEGACY OF DISGUST
CREDITS:
All music & lyrics written by Luke Manson Recorded at Sledgehammer Studio Produced by Sean Delander
Engineered By Dan Field
Mixed and Mastered by Lance Prenc